In the past, dentists had to rely on reflective lighting and tiny mirrors when inspecting your mouth to confirm your oral health. At Saratoga Dentistry, our team uses a state-of-the-art Intra-oral camera instead, which helps ensure we (and you) receive an accurate and in-depth 'picture' of your oral health. It also means that, by sharing the images with you in real time, you become an integral part of the 'co-diagnosis' process.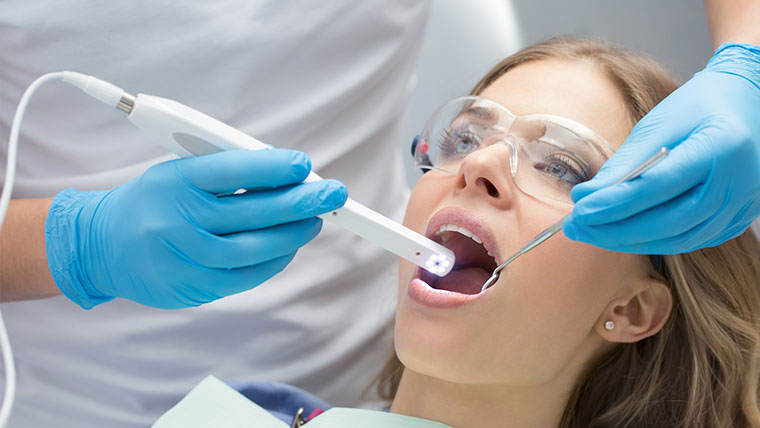 How the Intraoral Camera Works
The Intraoral Camera enables Dr. Araldi a far greater and clearer field of view when viewing your mouth for potential problems. This dental scanner also makes it easier and faster to diagnose an oral health issue.
Using a small wand, our Saratoga dental team can take a close-up look at your gum tissues, teeth, and any existing dental restorations present in your mouth. The device enlarges the pictures to many times their original size and displays them on a monitor, in real time. This technology allows us to perform a much more in-depth examination than was previously possible.
With our Intraoral Camera, our Saratoga dentist can freeze a frame, record the findings, and print a photo in high resolution of any potential problem areas. The images also serve as an important baseline against which to compare during future visits.
When Dr. Araldi examines your mouth, he looks for any indications of oral health issues, including tooth decay, signs of oral cancer, cracks in teeth, defects in restorations, and deterioration of crowns or fillings. This allows earlier diagnosis and prevention: the sooner treatment begins, the quicker, easier, and less costly the treatment.
Many patients have told us that being given the opportunity to see their teeth and gums up close has helped them better understand their oral health, and encouraged them to be more diligent with their at-home oral hygiene.
To take advantage of our special offers
Call (408) 257-5950
or request an appointment online