What we are doing to keep our patients safe
Yes, we're back open!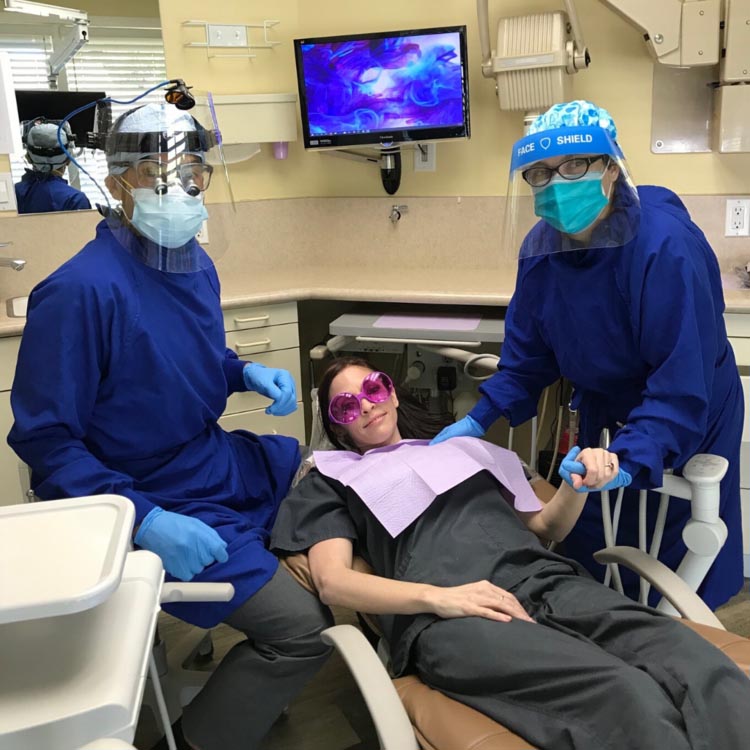 Dear Patient,
We trust you are doing well and staying safe during these challenging times.
As many of you already know, we officially reopened for cleanings and all general and cosmetic procedures in early June.
If it has been a while since your last visit, or you are new to our practice, we want to be sure you are aware of all the steps we have taken to ensure your health, safety and comfort.
We hope this will give you the confidence and peace of mind you deserve when scheduling your next appointment at our office, knowing that we are going to take great care of you!
If you're not too worried about any of that and just want to make an appointment, call/text our office at 408-257-5950.
In addition to all the usual safeguards that were in place prior to the outbreak of Covid-19 (which follow CDC guidelines and exceed OSHA standard), as a result of the pandemic, we are now doing the following:
Asking screening questions of all patients and team members and doing "no touch" temperature checks.
Practicing social distancing when scheduling patients so that fewer patients are in the office at one time.
Providing treatment in private rooms where air-space is not shared with other patients.
Sterilizing surfaces with a hospital-grade disinfectant between each patient being treated, in addition to sanitizing face shields, goggles, devices, equipment and instruments multiple times a day.
Providing each patient a pre-treatment disinfecting mouth-rinse.
Wearing extensive PPE including goggles, gloves (multiple layers) face shields, gowns, surgical masks and N95 masks which have been fit tested for each employee to ensure they achieve filtration specifications.
Doing full gown changes between patients.
Implementing multiple levels of air filtration including a high-speed Hyper HEPA filter in each private treatment room (which changes room air in about 6 minutes) and fogging at lunch, in each room between patient visits, and at the end of the day, with a safe and environmentally friendly disinfectant.
Please note, upon arriving at the office for your appointment, please call or text so we can meet you at the front door and bring you into the office, as the front door will be locked.
Your oral and overall health and wellbeing are of paramount importance to us. If you should have any questions or concerns, we invite you to share them with us.
Until we see you again, please do all you can to remain safe and healthy!
Sincerely,
Dr. Daniel Araldi
To take advantage of our special offers
Call (408) 257-5950
or request an appointment online