When you are self-conscious about your smile, you may avoid showing your teeth in photos, when you smile, or at job interviews. If this is you, dental veneers may be a great option for you. Porcelain veneers are often used to cover up embarrassing dental problems like unevenly spaced, discolored, chipped, or misshapen teeth. The many benefits of porcelain veneers have made them one of the most popular cosmetic dentistry procedures available. At Saratoga Dentistry, we can help you decide if veneers are the right option for you.
Benefit #1: Veneers Cosmetically Repair Teeth Simply and Easily
A dental veneer is made of a thin piece of porcelain that Dr. Araldi cements onto the front of your teeth. This covers the tooth and improves its appearance. They are custom-made to fit each tooth. That allows each person to have the most natural and attractive smile as possible. Porcelain veneers match the natural color of the teeth they are covering, and they reflect light just like a natural tooth does. They do not stain easily, making them a great choice for fixing cosmetic problems with your teeth.
Benefit #2: Dental Veneers Offer a Natural Appearance
It will take more than one visit to your Saratoga dental office to get this type of restoration done. The end result is worth it. At the first appointment, Dr. Araldi will take impressions of your teeth. The impressions are used to create veneers that will match your natural tooth color and contour.
Once the porcelain veneers are done, he will sculpt each overlay to create a natural-looking smile for you. They are customized to fit your style and facial symmetry. Once they are placed on your teeth, they will look and feel very natural.
Benefit #3: Veneers are a Quick Cosmetic Fix
Dental veneers can be a life-changer for those who are not happy with the appearance of their teeth. They can be used to address these types of cosmetic issues:
       

Chipped teeth

       

Missing teeth

       

Gaps between teeth

       

Misshapen teeth

       

Discolored or stained teeth
Sometimes, veneers can be used to treat gaps between the teeth as an alternative to braces. The veneers cover the issues so well, only you and the dentist will even know the issue exists.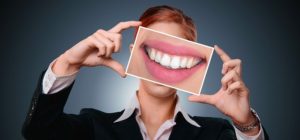 Benefit #4: Veneers are Permanent and Durable
Porcelain veneers are a permanent fix, and they actually resist stains and decay better than natural teeth. The surface of a veneer is non-porous, which helps resist both stains and cavities better than porous enamel. With proper care, veneers can last between 10 and 15 years.
Benefit #5: Dental Veneers are Easy to Maintain
Porcelain veneers do not require any special care above normal good oral hygiene and care. Caring for them is exactly the same as taking care of your natural teeth. You still need to brush twice a day and floss at least once daily. Of course, to maintain the great smile that veneers create, you'll need to keep your regular checkups at your Saratoga dental office.
Benefit #6: Porcelain Veneers offer a Permanent Tooth Whitening Option
Many patients like to get a professional tooth whitening treatment. Veneers are resilient, especially when compared to natural teeth. They are highly stain-resistant, so you won't need to get them whitened regularly. Some people prefer to combine dental veneers with dental crowns because the two procedures can offer stunning results.
Benefit #7: They Look and Feel Like Your Natural Teeth
Most of the time, others will notice that you have a great smile but won't be able to tell that you had a procedure done since veneers look so natural. Not only do they look that natural, but they also feel more natural, too. You do not have to worry about people staring at your teeth. You can just love your smile again.
Benefit #8: They Require Very Little Enamel Removal
If enamel wears away, it's gone forever and cannot be replaced. Placing dental veneers requires only a super thin layer of enamel to be removed. The removal of a tiny bit of enamel is necessary for the veneer to bond on the tooth properly. Without enamel removal, the veneer will look large and awkward. Remember that the thin shell is placed on just the front of a tooth whereas dental crowns and bridges have to be placed over one or more teeth. More enamel has to be removed to place crowns than to place veneers.
Benefit #9: Getting Veneers is a Minimally Invasive Procedure
The procedure is minimally invasive and will require very little or no anesthesia. It's actually a less invasive process than many other dental restoration options.
Benefit #10: Dental Veneers Increase Confidence in Your Smile
Because dental veneers look and feel so natural, you can be more confident in your smile. It's very common for patients to feel more confident after they get veneers. You can be confident that you are making a great first impression whether going for a job interview, or out on a date.
Contact Us
Would you like to know more about porcelain veneers? Schedule a visit with Dr. Araldi to discuss the procedure and determine whether you are a good candidate for this cosmetic enhancement, either by itself or as a part of a total smile makeover. At Saratoga Dental, we are committed to helping you improve your smile. Use this form to contact us today!